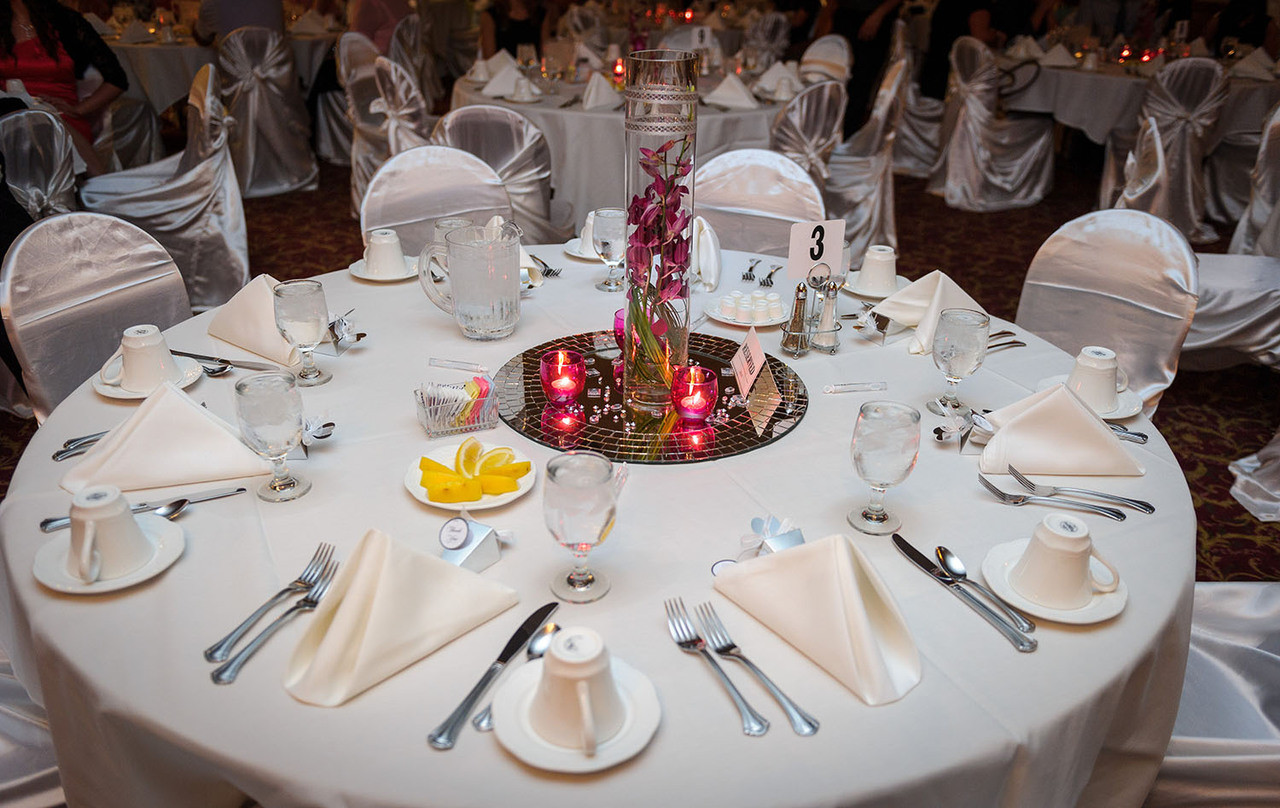 Your wedding day is undeniably one of the most special days of your life. So, why wouldn't you want to celebrate it in the best possible way (without, of course, completely breaking the bank? Well, one easy way to do that is to get customized elements as part of the decoration. A simple yet fun and interesting choice is to get personalized wedding napkins. These napkins can have your and your fiancé's names on them along with the date and other bits of text to make your day feel unique and memorable. Thus, this article offers three reasons why you should get personalized napkins for your wedding.
Make Your Cake Table or Bar Feel Unique
Likely, your wedding guests have already attended an event at the venue where you're celebrating, especially if you live in a small town. In that case, you can make the décor unique through something as small as personalized wedding napkins. These napkins can help remind people of the wedding, and it's a little detail that may stay with them even after they go home.
That said, you should certainly consider getting these high-quality, non-recycled 3-ply paper napkins for cake tables. You'll need a wedding cocktail napkin instead of a regular-sized napkin for your cake table. In addition to that, it's best to include personalized beverage napkins at the bar as well. Considering most guests may have more than one drink, it's a good idea to settle with about 2 to 3 napkins for each guest. It's a good idea to limit it to that number because you don't want to buy more than you need. Moreover, if you plan to serve hors d'oeuvres, you can have your butler also hand out a personalized wedding cocktail napkin 
Make Your Dinner Feel Luxurious 
There are, of course, some parts of the wedding venue where you should and shouldn't consider personalized paper napkins. So, if you're looking to get soft, high-quality, non-recycled 3-ply paper napkins, then maybe you shouldn't have them at the dinner tables. While these napkins may look fantastic, paper napkins don't make the best impression for seated dinner.
Instead, it's a much better idea to get personalized luxury linen napkins for your wedding dinner. These napkins look and feel amazing, creating a certain sense of luxury among your guests when they sit down to dine. What's great about these napkins is that they're soft, absorbent, and thick like cloth napkins, but they're disposable like paper ones. Therefore, you don't have to spend a small fortune trying to secure cloth napkins for your wedding.
The specific napkins referenced above have three unique lines of text that you can add, allowing you to write more than just your names and wedding date. In addition to that, you can also choose the printing placement to create a design that you feel best encapsulates your aesthetic as a couple. There are also 56 colors to choose from, and you can select the imprint color as well. You can be sure that your guests will feel like they're wiping their hands on a luxurious towel when they use one of these.
They Help Keep a Consistent Theme
We're not trying to suggest that you cannot keep a wedding theme consistent without personalized napkins. However, these napkins can certainly help elevate the theme of your wedding. There's a lot of customization that you can do with personalized napkins. For example, you can choose a variety of different fonts for the text on each of the personalized napkins. So, you can keep the theme consistent by using the same font in other parts of your décor that include text. In addition to that, you can also choose among various styles and colors. For example, this particular cocktail napkin has a wreath and a letter in the center. Moreover, you stay true to the color theme of your wedding by choosing the imprint color, so that text font and color stay the same. It certainly adds some character to the overall décor of your special day, which can leave a lasting impression on your guests.
Last Few Words
In addition to personalized napkins for your wedding, you can consider giving welcome bags for wedding guests you're your wedding guests to make them feel special. Those bags could include a souvenir that can help them remember your special day for years. Small tokens of appreciation like that also help bring you closer with the people you care about, especially if it's a relatively small wedding. If you're ready to make your special day even more unique, then head over to My Wedding Reception Ideas and pick your favorite personalized napkins.